From Concept to Reality: How ANSYS is Redefining Automotive Design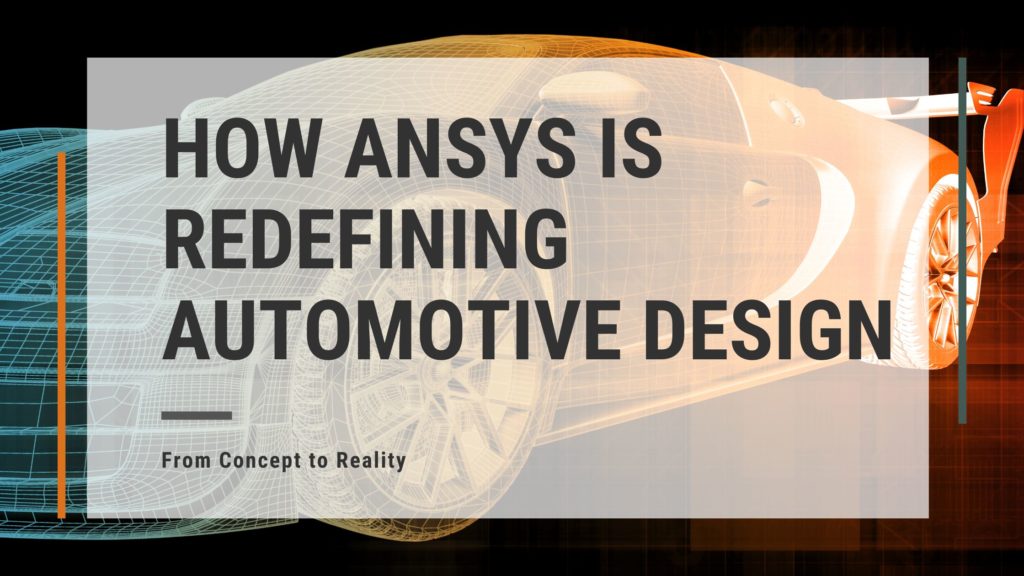 ANSYS is a leading engineering simulation software used for designing and testing products in a virtual environment. The software suite comes with sets of tools for creating digital prototypes of products and systems and for simulating their behaviour under various real-world conditions – with analysis of structural mechanics, fluid dynamics, electromagnetics, and more. Thus, the software helps in optimizing product designs, reducing development time and costs, and improving overall product performance and reliability.
ANSYS is used by many industries, but it has become increasingly popular in the global automotive industry, which is undergoing significant changes in recent years. The software is used for a wide range of applications in this sector, including design optimization, performance analysis, and safety testing. 
In response, the developers of ANSYS Software keep bringing out tools, especially for the automotive industry. Examples include ANSYS Fluent for combustion analysis and ANSYS LS-DYNA for crash simulation. The company also works with many of the leading automotive manufacturers and suppliers worldwide for special projects. In 2018, ANSYS announced a partnership with BMW to develop a simulation tool for testing autonomous vehicles, and in 2019, ANSYS announced a collaboration with Porsche to develop simulation tools for electric vehicles.
Some of the widely used applications of Ansys in the automotive industry include structural analysis, crash testing, acoustics, and fluid dynamics. The areas of applications broadly come under:
Design optimisation:
ANSYS helps automotive engineers optimise the design of various components, such as engine parts, suspension systems, and body structures. Engineers simulate the behaviour of these components in a virtual environment and identify areas for improvement for better performance, efficiency, and safety.
Performance analysis:
Automotive engineers use ANSYS to simulate – and thus evaluate, the performance of vehicles under various operating conditions, such as acceleration, braking, and turning under various digitally-created real-world environments. 
Safety testing:
ANSYS is used to simulate crash tests and evaluate the safety of vehicles. Engineers identify potential safety issues by simulating the behavior of the vehicle during a crash and make changes to improve the safety of the passengers.
Engineers use ANSYS also to evaluate the thermal behaviour of various automotive components, such as engines, transmissions, and brakes. This helps them to determine safe temperature limits for the components.
Core ANSYS Tools 
Gaining mastery of ANSYS largely depends on developing skills in a wide range of design and simulation tools of the software that are meant for various engineering applications. Here are some of the key ANSYS design and simulation tools:
It is a powerful tool for structural analysis. It is used to simulate the behaviour of structures under various loading conditions. ANSYS Mechanical thus enables engineers to optimise the design of mechanical components, such as engine parts, suspension systems, and body structures.
A fluid dynamics analysis tool, it is used to simulate the behaviour of fluids, such as air and water. ANSYS Fluent helps engineers optimise the design of fluid systems, such as cooling systems, pumps, and fans.
ANSYS Electronics:
It is a suite having a collection of tools for electromagnetic analysis. It simulates the behaviour of electromagnetic systems, such as antennas, and motors. It comes in handy for optimising the design of electronic systems and for ensuring compliance with electromagnetic compatibility regulations.
ANSYS CFD:
This tool is meant for computational fluid dynamics analysis that simulates the behaviour of fluids. It aids in the optimisation of the design of fluid systems, such as combustion chambers, heat exchangers, and turbines.
ANSYS LS-DYNA:
A tool for explicit dynamics analysis, LS-DYNA is used primarily to simulate the behaviour of materials under extreme loading conditions, such as crash tests and explosions. It greatly helps engineers ensure the design of automotive components and ensure to comply with safety regulations.
These comprehensive sets of tools – used for various applications, from mechanical and structural analysis to fluid dynamics and electromagnetic analysis, make ANSYS a versatile and powerful software suite to perform advanced simulations and optimise the performance of automotive designs. 
CADD Centre provides Ansys training program through its centres spread over 25 countries as well as via its online learning portal. Our centres offer hands-on training sessions and workshops that cover different application areas in the automotive industry, using the latest ANSYS software and high-end hardware. Explore all popular ANSYS courses here.
 We also provide corporate training in ANSYS that is tailored to the specific needs of automotive companies. The training modules are customised to cover specific application areas or ANSYS tools and can be delivered on-site at the facilities of the companies. 
If you have aspirations to enter the automotive sector, learning the advanced design optimisation and simulation tools of ANSYS will be useful. ANSYS software training can bestow engineering professionals with the ability to accurately predict how their automotive designs will behave in real-world conditions, and thus allow them to develop vehicle models quickly and successfully.