Where Revit Architecture Scores Over AutoCAD and How to Master It?
When AutoCAD was introduced in 1982, it marked a significant milestone in the field of computer-aided design (CAD). AutoCAD was a general-purpose CAD software that provided drafting and design capabilities for various industries. Following the overwhelming success of the software, specialized AutoCAD programs were developed for different industries over time. Though AutoCAD is widely used in mechanical engineering, electrical engineering, and so on, it is more popular in civil engineering and architecture.
Entry of Revit Architecture:
But as the concept of building information modeling (BIM) started making inroads in civil engineering and architecture, Revit Architecture entered the picture in 2000. It became an instant hit in architectural design. Today, Revit is used also in structural engineering and MEP (mechanical, electrical, and plumbing) design.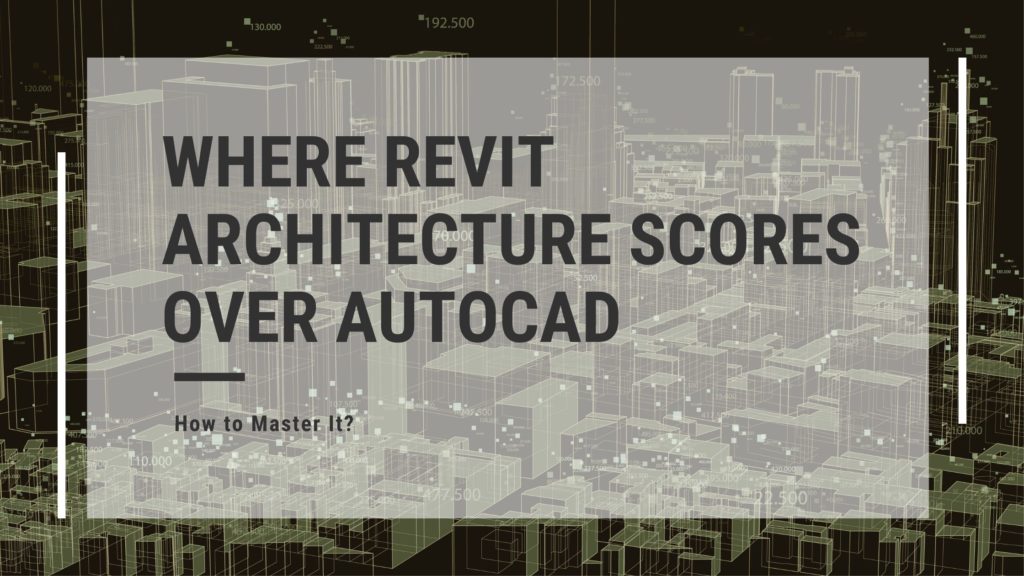 AutoCAD versus Revit Architecture:
AutoCAD and Revit Architecture have many similarities. They both support the creation of 2D and 3D designs. They both provide tools for generating construction documentation and adding annotations to drawings. They both can be used to create detailed plans, sections, elevations, and schedules. They both come with libraries of predefined objects, such as furniture, fixtures, doors, windows, and more. As they are the products of the same company, they both have a similar-looking interface and navigation design.
However, AutoCAD and Autodesk Revit are two different animals. They are not easily comparable in terms of features, capabilities, and purpose. Specifically, AutoCAD follows a traditional CAD approach, where users create 2D and 3D geometry using basic drafting and modelling tools. It has limited BIM capabilities. In contrast, Revit Architecture follows a BIM approach, where the emphasis is on creating intelligent, parametric building elements. Revit excels in 3D modelling and provides advanced parametric modelling capabilities.
Among the users, there is an unwritten consensus: while AutoCAD can be used for specific tasks or disciplines within a civil engineering or architecture project, Revit Architecture is best for comprehensive architectural design and BIM coordination.
If you are an architect or associated with an architectural firm and you require intelligent 3D modelling, then learning Revit Architecture can be invaluable. With Revit you can also facilitate collaboration with engineers, contractors, and other stakeholders involved in the design and construction process.
Getting training in a formal learning environment can speed up your learning and mastering of Revit Architecture. The focus areas for your learning should be related to:
User Interface:
Familiarize yourself with the Revit Architecture interface, including the Ribbon, Quick Access Toolbar, Project Browser, Properties Palette, and View Controls. Know how to navigate and access various other tools.
Project Setup:
Learn how to set up a new project in Revit Architecture. This involves selecting appropriate templates, defining units, setting up levels, and creating views.
Building Elements:
Explore the creation and modification of building elements such as walls, floors, roofs, doors, windows, stairs, and ramps. Understand how to adjust their properties, add layers, and create openings.
BIM:
Gain knowledge of BIM concepts and how Revit Architecture implements them. Understand the benefits of BIM, which include data-rich modeling, parametric relationships, and automatic coordination.
Views and Sheets:
Learn how to create and manage different views, such as floor plans, elevations, sections, and 3D views. Discover how to generate and customize sheets for construction documentation.
Annotation and Detailing:
Explore the tools for adding annotations, dimensions, tags, and schedules to your Revit Architecture project. Understand how to create and manage detail views and detail components.
Families:
Familiarize yourself with families in Revit Architecture. They are parametric building elements. also, learn how to create custom families and modify existing ones to suit project requirements.
Collaboration and Worksharing:
Understand the collaboration features in Revit Architecture. These features include worksharing, linking and importing models, and coordination tools.
Visualization and Rendering:
Learn how to create realistic visualizations of designs using Revit's rendering capabilities. Understand materials, lighting, camera views, and rendering settings to enhance your presentation outputs.
Documentation and Construction Drawings:
Gain knowledge of the tools and techniques for generating construction documentation from your Revit Architecture model. This includes creating plan views, sections, schedules, and keynoting.
Revit Architecture is constantly evolving. You can explore more advanced features, such as advanced modeling techniques, phasing, family creation, and advanced scheduling.
CADD Centre offers a wide range of Revit courses. Our emphasis on 'experiential learning' means that our training consists of small-scale sample projects – and real-world projects (depending on the course), for you to practice different tools and features of Revit Architecture. We welcome you to explore our courses here or visit the nearest CADD Centre.