Essential Components of Primavera: Powering Project Excellence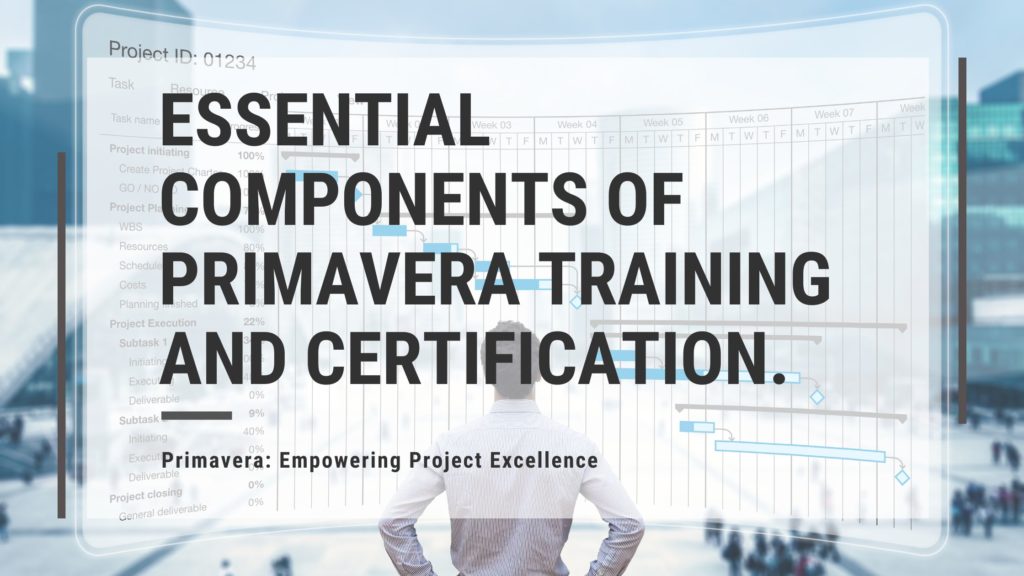 Directly or indirectly, a lot of efforts in business go towards "planning and organizing tasks to achieve project goals effectively", the stated objective of the Project Management discipline. Add IT to it, and you get a soaring software domain referred to as Enterprise Project Management or Enterprise Project Portfolio Management. 
The market is awash with many Project Management software tools. But Primavera, developed by Oracle, is clearly among the market leaders. It is widely recognised and used in industries such as construction, engineering, oil and gas, utilities, and infrastructure development that require robust project management capabilities. 
Primavera differentiators
The key features that set Primavera apart from other project management software tools include robust scheduling and comprehensive project control. The software offers powerful scheduling capabilities, allowing users to create detailed project schedules, set dependencies, allocate resources, and manage critical paths.
It enables precise project planning and tracking. Primavera makes comprehensive project control possible through features such as cost management, risk analysis, progress tracking, and performance reporting. 
Another big differentiator of Primavera is its portfolio management capabilities. The software supports enterprise-level project portfolio management (PPM), allowing organizations to prioritise and manage multiple projects and portfolios effectively. It assists in strategic decision-making and resource allocation.
As the adoption of Primavera steadily grows, professionals with specialised knowledge and skills in this software, including proficiency in Primavera P6 Enterprise Project Portfolio Management (Primavera P6 EPPM) are in great demand. Primavera professionals are typically sought after for positions such as project managers, project coordinators, project schedulers, and project control analysts. Organisations hire Primavera professionals with their eyes closed when they are certified for their in-depth knowledge of Primavera's features, and best practices.
Mastering Primavera 
The starting point in getting Primavera training for a certification is to determine whether the specific certification aligns with your career goals and interests. Then, you can review the objectives of the certification exams and prepare for the exams. You can start the preparation by studying Primavera's features, functionalities, and best practices using official documentation, user guides, and online resources. This will help you gain a solid understanding of Primavera's capabilities. 
However, enrolling in formal training courses provide structured learning paths, hands-on exercises, and expert guidance to enhance your Primavera skills. Typically, any Primavera training course would cover the following topics:
Introduction to Primavera:
An overview of Primavera key features, and its role in project management:
1.  Project Setup
2. WBS (Work Breakdown Structure)
3. Activities and Tasks
4. Scheduling
5. Resource Management
6. Project Baselines
7. Project Tracking and Control
8. Reporting and Analysis
9. Risk Management
10. Portfolio Management
11. Collaboration and Integration
1.  Project Setup
In the world of project management, it all begins with setting up your project effectively. Primavera allows you to create a new project with ease. This involves
Creating new projects: Start your project journey with Primavera by creating a new project with essential details.
Defining project parameters: Set project parameters such as start and end dates to align with your objectives.
Establishing project calendars: Customize working hours, holidays, and non-working hours to match your project's schedule.
2. WBS (Work Breakdown Structure)
A Work Breakdown Structure (WBS) is the backbone of project planning. Primavera empowers you to create a WBS that offers a clear and organized view of your project's scope through
Hierarchical structure: Break down your project into manageable tasks using a hierarchical structure.
Task relationships: Understand the relationships between tasks for a logical project flow.
3. Activities and Tasks
Within each work package defined in the WBS, there are specific activities and tasks that need to be carried out. Primavera allows you to define these activities in detail. You can
Define activities and tasks: Specify activity details, durations, dependencies, and relationships.
Logical sequencing: Ensure tasks are executed in the correct order by defining dependencies.
4. Scheduling
Creating project schedules is where Primavera shines. It enables you to
Create schedules: Utilize Primavera's robust scheduling capabilities to create detailed project schedules.
Identify critical paths: Pinpoint critical paths for efficient project management.
Schedule analysis and optimization: Analyze and optimize your project schedule for maximum efficiency.
5. Resource Management
Effective resource management is essential for project success. Primavera allows you to
Allocate resources: Allocate labor, equipment, and materials to tasks as needed.
Resource leveling: Optimize resource allocation to prevent bottlenecks.
6. Project Baselines
Baselines are like project snapshots that capture the initial project plan. Primavera allows you to
Establish project baselines: Create reference points to track progress and compare against the original plan.
7. Project Tracking and Control
Project tracking and control are ongoing processes in project management. It enables you to
Monitor progress: Keep a real-time check on project progress.
Update schedules: Ensure schedules reflect actual progress.
Cost tracking: Track project costs effectively.
Change management: Manage changes seamlessly to stay on track.
8. Reporting and Analysis
Communication is key in project management. Primavera simplifies the reporting process by offering a wide range of reporting and analysis tools. You can
Generate reports: Create various reports and visualizations for clear communication.
Convey project status: Effectively communicate project status and performance.
9. Risk Management
Every project comes with inherent risks. Primavera includes robust risk management features to help you
Identify and assess risks: Proactively identify and assess project risks.
Implement mitigation: Implement risk mitigation strategies to minimize potential issues.
Risk analysis in planning: Incorporate risk analysis into project planning for proactive risk management.
10. Portfolio Management
Portfolio management in Primavera encompasses several critical aspects that help organizations optimize their project portfolios effectively:
Understanding EPPM concepts: Delve into the world of Enterprise Project Portfolio Management (EPPM) to streamline portfolio management.
Managing multiple projects: Learn the art of efficiently handling and prioritizing multiple projects within Primavera.
Optimizing resource allocation: Utilize Primavera's resource allocation capabilities to ensure optimal resource usage across various portfolios.
11. Collaboration and Integration
Collaboration and integration are vital components of effective project management. Primavera offers extensive features in these areas:
Exploring collaboration features: Discover the collaborative tools built into Primavera for effective teamwork.
Integration capabilities: Understand how Primavera seamlessly integrates with a variety of systems and tools, enhancing its functionality and utility.
Primavera software evolves over time with new features, enhancements, and updates, you must stay updated with the latest capabilities. This way you can leverage new functionalities and optimise your project management processes.
Primavera Training at CADD Centre
CADD Centre offers both classroom and online courses. Conducted by experienced instructors, they involve a lot of projects for you to practise different features of Primavera software, such as scheduling, resource management, cost control, and reporting. With projects, you will gain familiarity with the software's interface, features, and workflows, building confidence in utilizing the software effectively. Hands-on training is also important for you to actively engage with the software, practice tasks, and navigate through real-world scenarios.
To sum up, Primavera training is need to leading project management software suite, which offers specialised features and functionalities tailored to meet the specific needs of industries that rely heavily on effective project management. Hence the demand for trained and certified Primavera professionals will continue to command a premium in the job market. However, formal training and certifications are important for you as they provide credibility, marketability, and a competitive advantage in the field of project management, helping you advance your career and achieve professional success.