Top 10 Essential Tips for Efficient Revit Architecture Workflow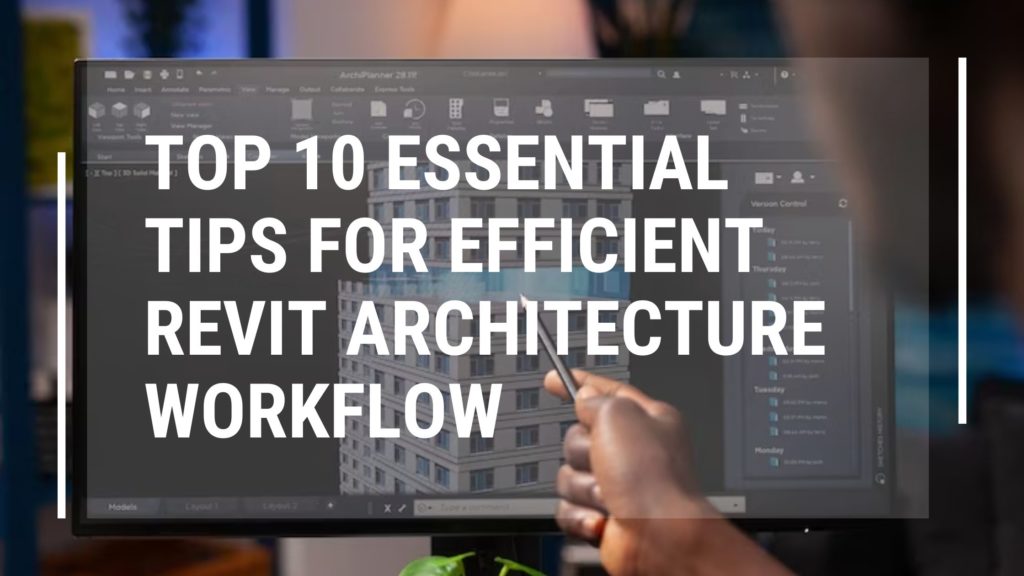 Building design using a CAD tool is essentially about translating conceptual ideas into precise construction documents. The documents could be detailed drawings, plans, or models of buildings. However, building design is not a single-stage or single-step process. It involves several tasks such as creating conceptual designs, schematic designs, and then design development, documentation, analysis and simulation, and in the end, rendering and visualization.
The industry best practice is to arrive at a workflow, which defines a logical sequence in carrying out these interconnected processes. Even though the sequence of steps is more or less the same for all civil engineering projects, there can be slight variations depending on the kind of projects, project outcomes, and even the software used. The case of using Revit Architecture is no exception.
Revit Architecture, known for its Building Information Modeling (BIM) capabilities, is primarily used to create accurate 3D models of buildings.
The first step is creating a new project in the software, and then defining project settings, including units of measurement, project location, and coordinate systems.
Revit has sketch tools that are used for conceptual design. At this stage, new design ideas are explored and design options are evaluated.
This step is meant to refine the conceptual design and create preliminary floor plans, elevations, and sections. Revit's parametric modeling capabilities make this process very efficient. 
This is comprehensive of all steps, as it involves developing detailed architectural elements such as walls, doors, windows, roofs, and floors, and collaborating with other disciplines, such as structural and MEP engineering. Revit's BIM capabilities can ensure that modeling is accurate.
This step produces more tangible outputs in the form of construction documents, such as floor plans, elevations, sections, and schedules. Revit lets designers and architects quickly add annotations, dimensions, and tags to convey design and construction information.
What follows then are the processes of analysis and simulation, and rendering and visualization. However, it is quite possible to increase the efficiency of the Revit Architecture workflow when designers and architects know how to exploit certain in-built features of the software. Experienced professionals have always known the steps that can enhance efficiency in Revit users.
Tip: 1 – Set up templates:
Create customized templates with your preferred project settings, title blocks, and view templates. This helps you start new projects quickly with consistent standards.
When collaborating with a team, organize your project into worksites to divide responsibilities. Use work sharing to enable multiple users to work on the same project simultaneously.
Tip : 3 – Keyboard shortcuts:
Familiarise yourself with and customize keyboard shortcuts for frequently used commands. This can significantly speed up your modeling and drafting tasks.
Tip: 4 – Families and components:
Build a library of custom families and components that you frequently use in your projects. Reusing these elements can streamline your modeling process.
Create and use View templates to apply consistent settings to different views, such as floor plans, elevations, and sections. This ensures uniformity in your project documentation.
Tip: 6 – Work with phases:
Understand how to use phases in Revit to represent different stages of a project (existing, new construction, demolition). Properly managing phases helps maintain clarity in your model.
Tip: 7 – Keyboard shortcuts:
Efficiently navigate the 3D view by using keyboard shortcuts for common view manipulations like orbiting, panning, and zooming.
Tip: 8 – Manage detail levels:
Adjust the detail level of your views and elements to balance model complexity with performance. Lower detail levels can speed up your workflow when working on large projects.
Tip: 9 – Revit add-Ins and scripts:


Explore and install useful Revit add-ins and scripts from the Autodesk App Store or other sources. These can automate repetitive tasks and enhance your productivity.

Tip: 10 – Schedule and Sheets Management:


Efficiently manage schedules and sheets by organizing them logically. Use naming conventions and filters to make schedules and sheets more informative.
As you gain experience, you can find many useful tips you can follow to make better use of Revit Architecture's capabilities. It also helps if you stay focused on improving your skills with Advanced Revit Courses and stay up-to-date with Revit's recent updates and best practices.